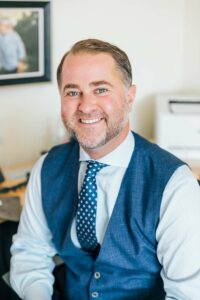 Taylor Franklin, CEO and co-founder of The Franklin Johnston Group in Virginia Beach, recognizes that the growth of Hampton Roads is reliant upon its ability to attract and retain employers — and that requires a high quality, affordable housing stock for their employees.
Over the course of his career, Franklin has been a part of the development of over 5,000 affordable housing units, with the development of over 1,200 affordable units in Hampton Roads since 2013. In support of this growth, The Franklin Johnston Group has recently completed Riverside Station and is under construction on Origin Circle at Kindred and Reunion Senior Living at Kindred, both of which serve the city of Norfolk's redevelopment of St. Paul's.
Additionally, in support of Virginia Beach's continued growth in the Central Business District corridor, Franklin and the TFJG team have developed Renaissance and 200 West Apartments, and Elevate 17 is under construction.
The Virginia Beach resident serves on the boards of the Virginia Beach Economic Development Authority, Chesapeake Bay Wine Classic Foundation, Virginia Wesleyan University, Norfolk Collegiate School and the Virginia Beach Neptune Festival. Franklin and his family have given much of their time and finances to nonprofits, including ACCESS College Foundation, United Way of South Hampton Roads, Virginia Beach SPCA, Operation Smile and Junior Achievement of Hampton Roads.
This year, The Franklin Johnston Group is celebrating 10 years and the creation of 10 communities across Hampton Roads that provide residents with first-rate affordable housing. Under Franklin's leadership, the company has grown to employ more than 700 people with 25,000 apartment homes under management across the East Coast.
Article Courtesy of https://www.pilotonline.com/inside-business/special-reports/